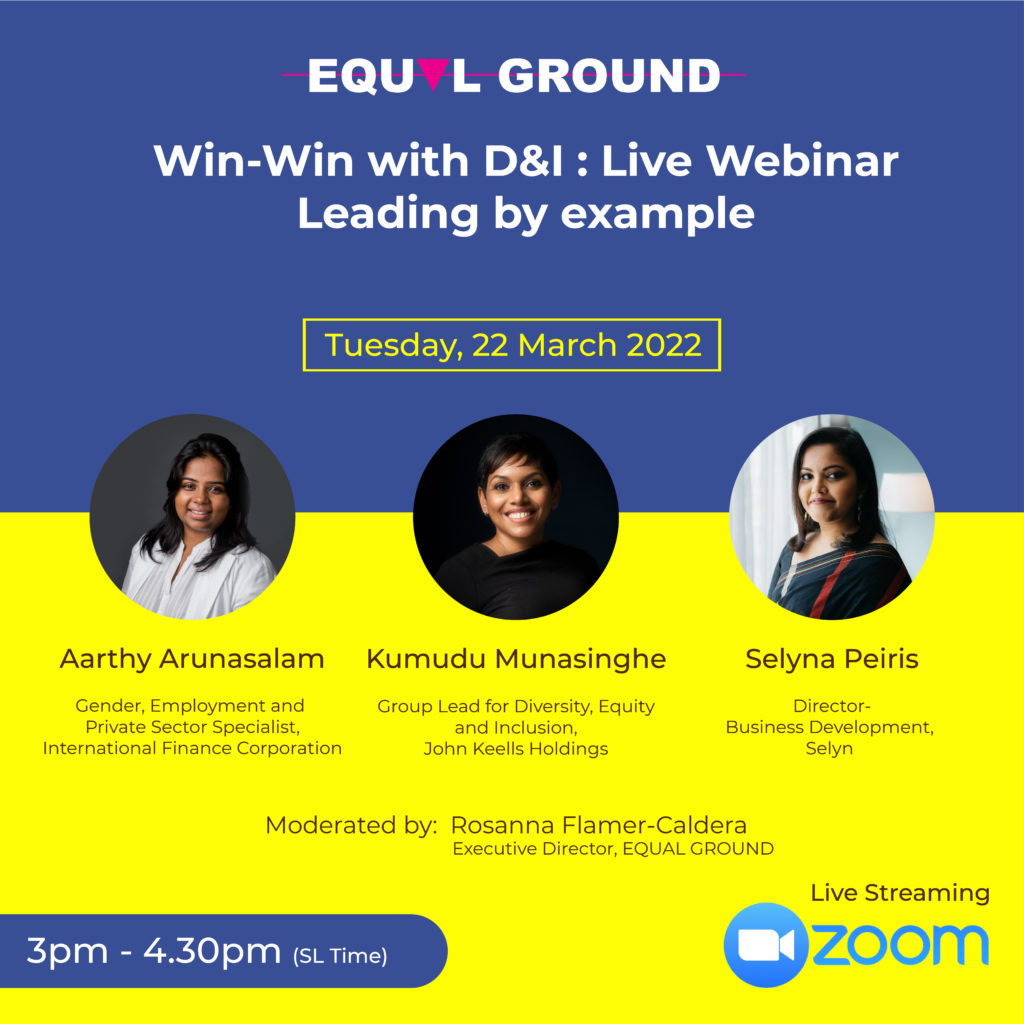 ABOUT THE WEBINAR SERIES
In the corporate world, Diversity and Inclusion (D&I) refers to hiring individuals regardless of their age, gender, sexuality, race, religion, physical abilities, mental health, backgrounds, and experiences, so long as they fit the company values and can carry out their roles. It also means that these individuals are compensated fairly and are treated without discrimination at the workplace.
Global research has shown that being diverse and inclusive, particularly Lesbian, Gay, Bisexual, Transgender, Intersex, and Questioning/Queer (LGBTIQ)-friendly, helps businesses retain staff. High staff turnover is costly, especially during uncertain economic times – like the one we are living in right now. Finding skilled and talented labour is a common issue that many companies in Sri Lanka face, and practising diversity and inclusion in the workplace can help businesses avoid costs associated with high labour turnover. Introducing and implementing diversity and inclusion policies promotes engaged, diverse, and inclusive workforces thus, creating a work environment that employees feel productive, valued, and free to express ideas that may be the next big 'idea' to move your company forward. Such practices can also help attract more customers, especially in the service industries. Furthermore, abiding by international non-discriminatory standards is important to become competitive in international markets, not just for businesses in the tourism sector, but also in other sectors.
As such, this webinar series targets Sri Lanka's business community and focuses on the importance of D&I as well as how to develop these practices in the workplace by engaging with CSOs. The panel discussions will cover areas such as how to improve job prospects and workplace conditions for the LGBTIQ community as well as the LGBTIQ community's valuable economic contribution.
DATES AND TIMES
Wednesday, 02 March 2022 – 5.30pm – 7pm (SL Time)
Wednesday, 09 March 2022 – 3pm – 4.30pm (SL Time)
Tuesday, 22 March 2022 – 3pm – 4.30pm (SL Time)
VENUE
Via Zoom
TOPICS INCLUDE
The role of corporate allies in efforts to advocate for equal rights for the LGBTIQ community
The importance of creating and fostering a diverse and inclusive culture at the workplace and why D&I should be a priority for companies operating in today's global, competitive markets?
The benefits of D&I for small and medium enterprises (SMEs) in Sri Lanka
Global standards in D&I: the Do's and Don'ts
Navigating Sri Lanka's legal space when it comes to the LGBTIQ community
How to identify gaps and opportunities for D&I in your company
Practical ways to implement D&I policies and practices in the workplace: the key components in developing D&I strategies/policies
Weathering resistance: overcoming the challenges and hurdles faced when implementing D&I practices and policies
Leading by example: how the leadership of the organization can set the path for companies' D&I cultures
Why and how to partner with CSOs to promote diversity and inclusion
Registration is FREE. Please register at https://forms.gle/kwjSJcUtqFhWMWVf8 before 28th February 2022 to be included in the webinar of your choice.